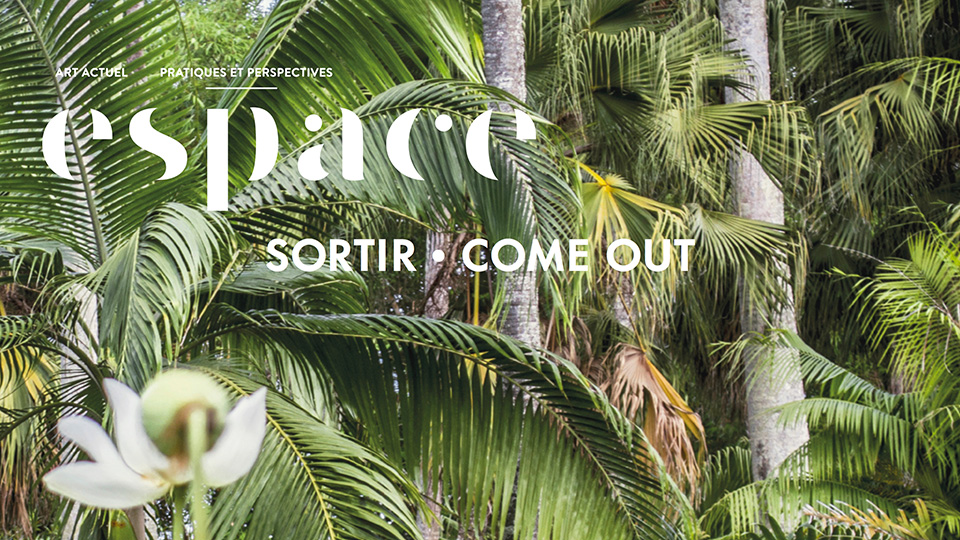 4 February
/ Montréal (Québec)
ESPACE no. 127 : Sortir – Come out
Lancement le jeudi 4 février à 12h en ligne
En kiosques et librairies : ESPACE art actuel, no127 (Hiver 2021)
Dossier : Sortir – Come out (sous la direction de Laurent Vernet)
Lancement : pour souligner notre plus récent numéro, un lancement en ligne donnera la parole à plusieurs autrices et auteurs du dossier « Sortir ».
Quand : 4 février, 12 h – 12 h 45 EST
Événement Fb : [ https://www.facebook.com/events/456816772352704 ]
L'art dans la sphère publique prend souvent la forme de programmes institutionnels que l'on regroupe sous le vocable « art public » (dont les politiques dites de « 1% »). Dans une perspective d'ouverture et de renouvellement de ce champ, ce dossier est un plaidoyer pour la diversité en matière d'art dans les espaces publics. Il insiste particulièrement sur « la nécessité de décoloniser cette pratique institutionnelle », laquelle doit intégrer plus concrètement des efforts de réconciliation et d'inclusion, efforts qui passent également par une re-territorialisation de l'espace public et des œuvres d'art que l'on y retrouve, sinon des actions artistiques qui en émergent.
Autrices/auteurs (sections dossier + entretiens + essai) : Analays Alvarez Hernandez, Bill Balaskas, Eunice Bélidor, Annie Gérin, Karen Henry, Camille Larivée, Joni Low, Devora Neumark, Julie Richard, Laurent Vernet, Martin Zebracki
Autrices/auteurs (autres sections) : Nathalie Bachand, Ray Cronin, Daniel Fiset, Antoinette Jattiot, Alban Loosli, André-Louis Paré, Camille Paulhan, Tak Pham, Élisabeth Recurt, Ariel Rondeau, Itay Sapir, Gabrielle Sarthou, Mathieu Teasdale, Érika Wicky
Artistes (sections dossier + entretiens + essai) : Maurice Benayoun, Claudia Bernal, John Brennan, Constanza Camelo Suarez, Arturo Castro, Aron Louis Cohen, Cruising Queer Collective, Francis Cruz, Daily tous les jours, Del Geist, DRIL Art Collective, Elisa Ferrari, Marie-Andrée Gill, Russell Gordon, Gabrielle Hill, S F Ho, Kamissa Ma Koïta, Germaine Koh, Camille Larivée, Andrew Lee, Khan Lee, Michele Helen Mackenzie, Kama La Mackerel, Marie Claude Marquis, Nadia Myre, Marsala Project, Conor McGarrigle, Nedine Moonsamy, Peter Morin, Éilís Murphy, Emily Neufeld, Julian Oliver, Justin Patterson, Marc Quizz, Daniel Rotsztain, George Segal, Tiffany Shaw-Collinge, Douglas Sholes, Rafael Sottolichio, Damian Stewart, Unceded Voices/Les Voix Insoumises, Giorgia Volpe, Tania Willard, Julita Wójcik, Cease Wyss
Artistes (autres sections) :
Kamrooz Aram, ATSA, Hurvin Anderson, Kim Anderson, Firelei Báez, Moridja Kitenge Banza, Patrick Bérubé, BGL, Minia Biabiany, Charlotte Charbonnel, Victor Cicansky, Clara Cousineau, Melissa Mollen Dupuis, Erik Escobar, La Famille Plouffe, Andréanne Godin, Rodrigo Gontijo, Barkley L. Hendricks, Richard Ibghy, JR, Bharti Kher, Kamissa Ma Koïta, Leslie Komori, Parris Lane, Marilou Lemmens, Rick Leong, Marie-Claude Lepiez, Janet Macpherson, Manuel Mathieu, Julie Mehretu, Adriana Miranda, Caroline Monnet, Bridget Moser, Jordan Nassar, Yoko Ono, Marion Paquette, Rajni Perera, Ed Pien, Joanne Poitras, Andrée-Anne Roussel, Curtis Talwst Santiago, Yinka Shonibare, Samuel St-Aubin, Mickalene Thomas, Ingrid Tremblay, Charlene Vickers
Page couverture : Kama La Mackerel, Breaking the Promises of Tropical Emptiness: Trans Subjectivity in the Postcard, 2019. Avec l'aimable permission de l'artiste. Photo : Nedine Moonsamy.