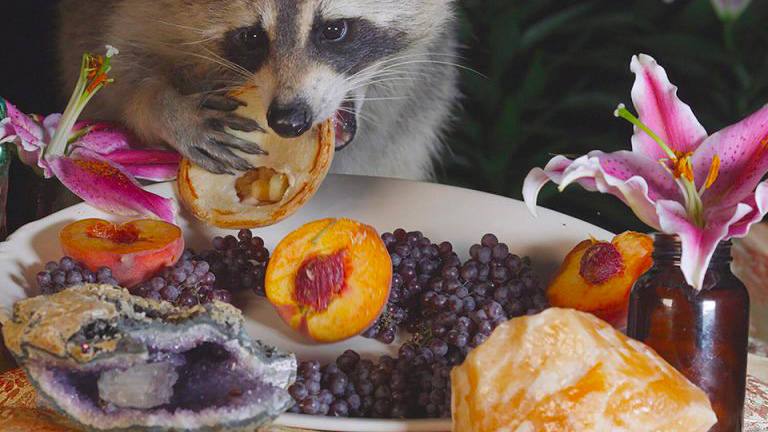 © Duke & Battersby, You Were an Amazement on the Day You Were Born (2019). Image tirée de la vidéo.
27 January

-

28 March
/ Montréal (Québec)
Dazibao présente : You Were an Amazement on the Day You Were Born
Exposition du 28 janvier au 27 mars en ligne
You Were an Amazement on the Day You Were Born suit un personnage nommé Lenore, de sa naissance dans les années 1970 jusqu'à sa mort dans les années 2040. Racontée à la deuxième personne par une diversité de performeuses, cette œuvre invite à une contemplation pleine d'empathie. Lenore est imparfaite, banale et, dans certains cas, cruelle envers les autres ; mais elle est également queer, neurodivergente et, à juste titre, en colère et sérieuse. Ses histoires d'amour, de sexe, de perte et de mort, à la fois sombres et comiques, sont écrites avec une honnêteté candide qui désarme en quelque sorte tout jugement, alors qu'en arrière-plan des vues rapprochées d'une faune diverse déclenche sciemment des sentiments d'amour et d'émerveillement — soit pour leur aspect grotesquement captivant ou irrésistiblement mignon.
You Were an Amazement on the Day You Were Born (2019) — 33 minutes
Le duo d'artistes canadiens Emily Vey Duke et Cooper Battersby collaborent à la création d'œuvres vidéo et d'installations depuis 1994 et ont exposé, projeté et diffusé leur travail à travers le monde, notamment à The Power Plant Contemporary Art Gallery (Toronto, 2009), au Musée des beaux-arts de Montréal et au Musée d'art contemporain de Montréal (2010), au Rochester Contemporary Art Center (New York, 2009), au UMKC Gallery of Art (Kansas City, 2009), au International Film Festival Rotterdam (2011), au Ann Arbor Film Festival (2010) et à ARGOS centre for audiovisual arts (Bruxelles, 2018). The Beauty is Relentless: a Book about the Short Movies of Emily Vey Duke and Cooper Battersby, publié en 2012 par le Museum of Contemporary Canadian Art et Pleasure Dome (Toronto), réunit des textes de 11 auteurs. En 2010, ils ont été nominés pour le Prix Sobey pour les arts du Canada et en 2016, leur travail faisait partie du Images Festival Canadian Artist Spotlight (Toronto).