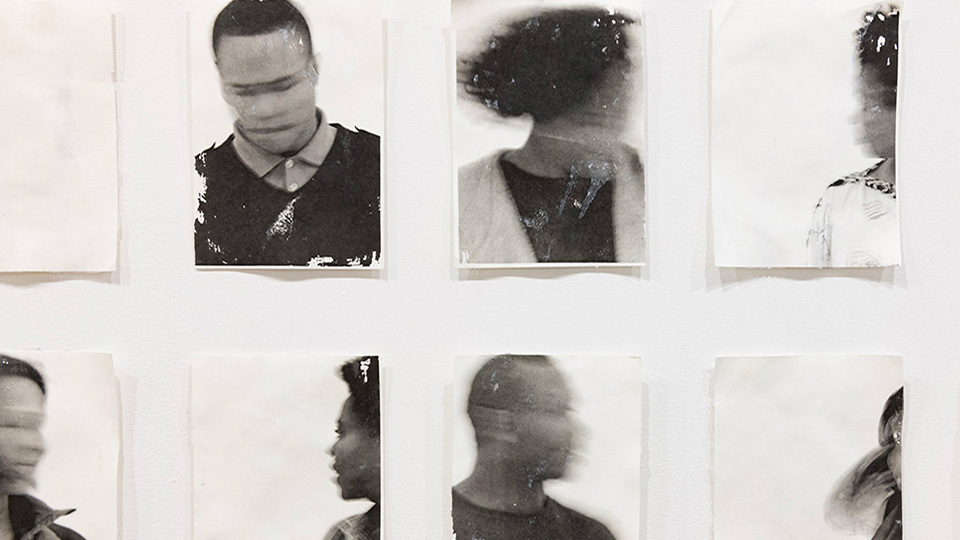 Sandra Brewster, Untitled (Blur), 2017 – 2019. Détail, photographie transférée sur papier archive à l'aide d'un gel acrylique
16 February

-

3 April
/ Montréal (Québec)
Sandra Brewster
Exposition du 16 février au 3 avril à OPTICA
Works from series : Smith Blur
Video:
Walk on by
The Potential of Movement
L'œuvre de Sandra Brewster a fait l'objet de nombreuses expositions au Canada et aux États-Unis, dont une récente présentation individuelle au Musée des beaux-arts de l'Ontario. Elle a également fait partie d'expositions collectives, comme What Carries Us: Newfoundland and Labrador in the Black Atlantic et la première exposition consacrée à la diaspora guyanaise intitulée Un|Fixed Homeland, de même qu'elle a participé à des expositions dans les Caraïbes et des villes du continent africain : Lagos, Addis-Abeba et Cape Town. Sa pratique est une visualisation de la diaspora noire, au pays et à l'étranger.
L'exposition individuelle de Sandra Brewster à OPTICA rassemble des images tirées de la série Blur et l'installation vidéo qui l'accompagne Walk on by, de même que Untitled Smith, une œuvre créée sur une période de huit ans (2011-2019). Même si ces images reposent sur l'intérêt de longue date porté par l'artiste au portrait, elles sont unies par une contestation du point de vue polarisé sur le fait d'être noir (Blackness), c'est-à-dire soit très visible ou rendu invisible.
Auteure : Nalini Mohabir
Traductrice : Colette Tougas
Sandra Brewster est une artiste visuelle vivant à Toronto. Dans sa pratique, elle explore l'identité, la représentation et la mémoire, en mettant l'accent sur la présence noire. Fille de parents nés en Guyane, elle est particulièrement attentive aux expériences des personnes d'origine caribéenne et aux relations qu'elles entretiennent avec leurs racines.
Nalini Mohabir est professeure adjointe de géographies postcoloniales à l'Université Concordia.