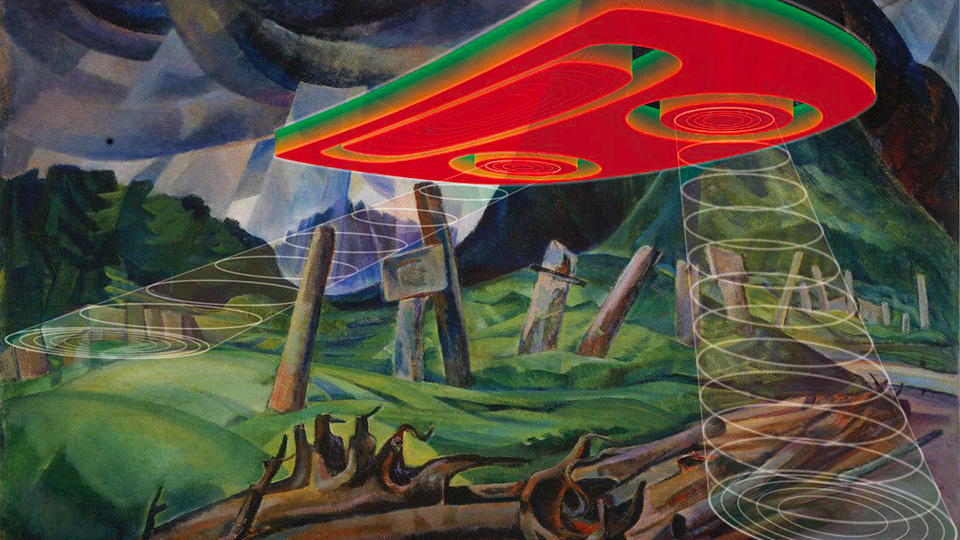 Sonny Assu. The Away Team Beams Down to What Appears to Be an Uninhabited Planet. (Intervention digitale sur peinture d'Emily Carr, peinture, pigment, impression), 2016.
16 January

-

21 March
/ Sherbrooke (Québec)
Images fabuleuses. Quand la fiction prend racine
Vernissage le jeudi 16 janvier à 17h à la Galerie d'art Foreman


Présentée en collaboration avec le centre en art actuel Sporobole et répartie en deux lieux, Images fabuleuses se penche sur la portée herméneutique de la science-fiction comme genre narratif, dans le cadre de discours émancipateurs et favorisant la diversité ethnoculturelle. Cette exposition rassemble des œuvres d'artistes canadiens et internationaux, des romans, des affiches, des films populaires, des jeux vidéo et des objets de collection, tous situés au croisement de la science-fiction et de la politique identitaire. Traversant un vaste horizon représentationnel, allant du refuge utopique aux plus sombres dystopies en passant par les récits uchroniques et les spéculations sociales, cette exposition examine les manières dont la fiction trace les chemins de possibilités d'existences alternatives.
Artistes : Sonny Assu, Danis Goulet, The Iyapo Repository, Larissa Sansour & Søren Lind, Skawennati
Commissaire : Gentiane Bélanger & Alexandra Tourigny-Fleury