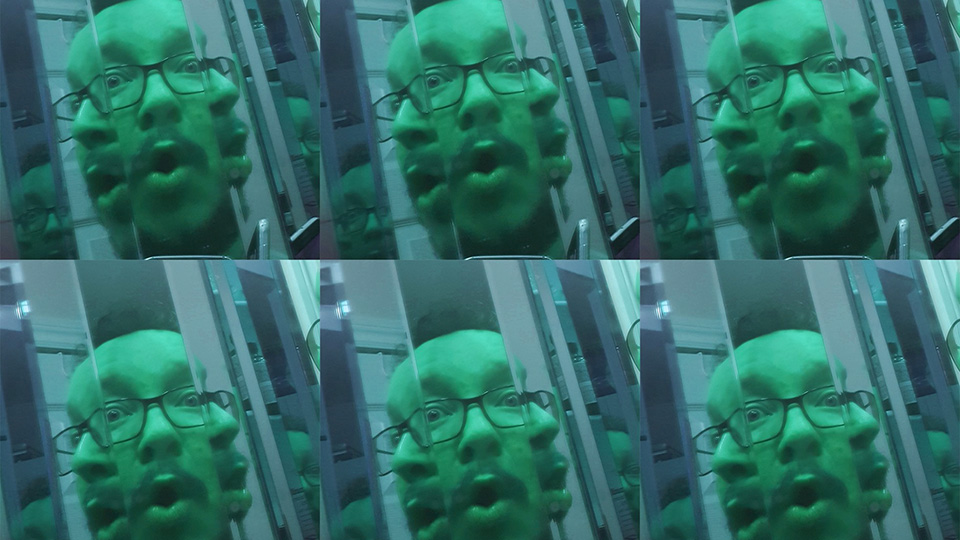 5 September 2020

-

1 November 2020
/ Rouyn-Noranda (Québec)
Diffusion / Suffusion de Dominic Lafontaine
Présentation de l'exposition le samedi 5 septembre à 14h à l'Écart
« Qu'est-ce que je peux casser là-dedans? »
— Dominic Lafontaine
Les portes d'un laboratoire virtuel s'ouvrent à nous. Une nouvelle réalité est née : des bêtes à plusieurs têtes discutent entre elles sur Zoom. Quelle est cette présence mythologique? « J'ai une présence quand je suis pas supposé en avoir une », dit Dominic Lafontaine en riant. Le même rire qui le pousse à inventer un détecteur d'or qui dit toujours non. Est-ce qu'il y a de l'or là-dedans? Non. Amplification, distorsion, diffusion; l'artiste entend les mots que prononce le hasard, out of the blue, comme on dit, et qui reviennent sans cesse. Le mot qui l'intéresse, dans cette résidence, c'est « suffusion » : quand ça prend tout l'espace. Un ricanement dans l'écho d'un centre d'artistes.
Dominic Lafontaine est un artiste anichinabé de Timiskaming First Nation. Il s'est impliqué dans sa communauté comme animateur radio, mais aussi en cuisine où, si on lui demande un spaghetti, il préparera plutôt une croquette au spaghetti avec la sauce en dedans. Diplômé en arts visuels de l'Université d'Ottawa, son travail a été présenté au Québec et au Canada à plusieurs reprises dans les dernières années.
Présentation d'artiste
Samedi 5 septembre – 14h00
Durée : 30 min.
Entrée libre – Réservation requise
*Réservation seulement par courriel à info@lecart.org. La présentation aura lieu à même la salle d'exposition. Une place assise sera assignée à chacun des participants en respectant les mesures de la santé publique en vigueur.