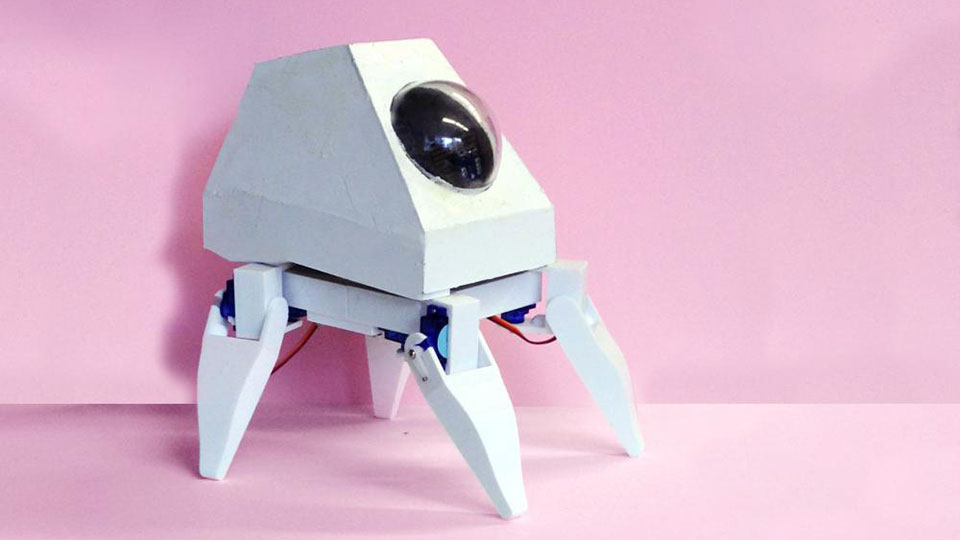 23 May

-

29 May
/ Montréal (Québec)
Animal Uexküll – Ray'Bot de Natalia Balska
Vernissage le jeudi 23 mai à 18h à Eastern Bloc

De 18 h à 20 h, Natalia Balska présentera le travail réalisé au cours de sa résidence de production dans le lab. Elle nous parlera de son projet intitulé "l'Animal Uexküll" inspiré de la robotique et cybernétique.
18 h à 20 h – Vernissage en présence de [Natalia Balska]
20 h à minuit – DJs [TIGNA$$E + Je suis TBA + Cham & Anya]
PROJET – L'ANIMAL UEXKÜLL
Utilisant une approche entre le design, le prototypage et l'art,
« L'animal Uexküll – Ray'Bot » explore l'idéologie de l'Umwelt décrite par Jakob von Uexküll et à la base de la biocybernétique. Le code de « Uexküll Animal – Ray'Bot » sera utilisé pour ré-imaginer une nouvelle version de « Ray Cat » telle que proposée par Françoise Bastide et Paolo Fabbri dans un programme de sémiotique pour le stockage des déchets nucléaires. « Ray Cat » est employée ici comme un tremplin afin d'examiner les futurs possibles avec des compagnons robotiques.
Site internet de l'artiste : http://scncflab.com/blog/
Instagram : https://www.instagram.com/sflab/
LINE UP DJs
20 h à minuit – Line up par Patisserie Bela Vista
TIGNASSE
https://soundcloud.com/alex-arsenault/tracks
Surplombée de sa crinière imposante, elle nous déniche des sons d'ailleurs qui surprennent sans équivoque. TIGNA$$E propose de nouveaux horizons musicaux, tout en déployant une énergie singulière, forte, familière, et incitant la réciprocité. Lors de ses performances, elle flanche notamment pour le rap, l'Afrobeat, le Reggaeton, le Dancehall, le Dembow, le Tarraxo, le Kuduro, le Ngom, le Baile Funk, le Kizomba, le Jersey Club, la Bmore et bien plus. Ses prestations sont physiquement contagieuses, en plus d'incarner un relais immersif entre l'auditoire et le talent des artistes qu'elle diffuse.
Je suis TBA
https://soundcloud.com/jesuistba/tba-2019-tba
Je suis TBA is a DJ, radio host and producer. Broadcasting on the dancefloor worldwide electronic beats.
CHAM & ANYA (B2B)
Cham's been around for more than a decade, mostly working in the backend of Piknic Electronic Montreal, Mutek and many more festival and events, while digging passionately
(some would say frantically) for the absolute heat here and abroad. She slowly dropped the greed and started blessing us with some ridiculously soul-touching gems she put her hands on over the time. House and deep house, techno, Acid House, deep funk ++
Eastern Bloc est heureux de collaborer avec la Patisserie Bela Vista pour vous inviter à une soirée double : le vernissage de notre artiste en résidence, Natalia Balska et une exploration musicale proposée par des DJs !
L'événement se déroulera dans notre charmante cour arrière afin de profiter du beau temps. Des tacos servis par Jess Lee, des natas de la Patisserie Bela Vista ainsi que de la sangria seront disponibles sur place.